Meet the Team
---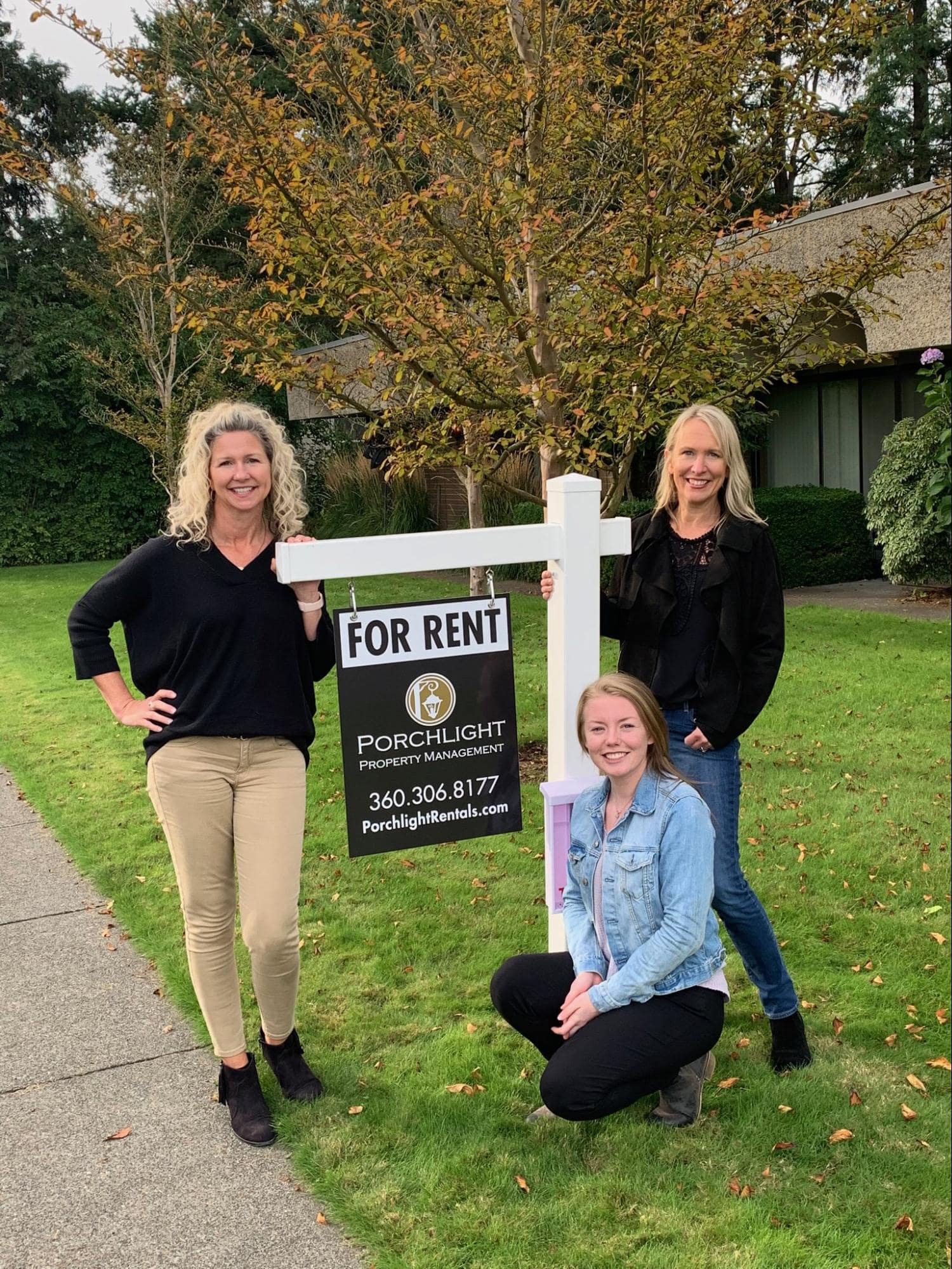 With the support of her husband, Brent, Mitzi Baldwin (far right above) started Porchlight Property Management in 2010. Mitzi, a native of Lynden, has been involved with property management from a young age, as her parents owned several rental properties that they self-managed. After high school, Mitzi moved to the Spokane area, where she studied Urban and Regional Planning at Eastern Washington University. After receiving her BA, she worked publicly and privately as a land use planner in Washington and Oregon. While raising small children, Mitzi worked for a local attorney with several rentals, and recognized a need for a property management company with specific knowledge of Lynden and other local communities. With her children all in school, she became a licensed Real Estate Broker and launched Porchlight Property Management. Joined by Marlae (left in photo) in 2016, and Cammie in 2020 (along with family members and several trusted independent contractors, Mitzi has managed to grow the company from nothing to a combination of more than 250 single and multi-family homes managed throughout Whatcom County.
The goal at Porchlight has always been to provide personalized service and communication with all our clients on the front end while using great technology and systems on the back end to manage the entire process effectively. And the people make a difference – everyone is not cut out for property management and we only hire the BEST!
Our team takes a hands-on approach to working with our clients from the beginning. We help prepare the property for rent, qualify tenants and manage the property through the lease term. From the first walk through until you decide to move back in or sell the property, we are there every step of the way, working for you.
Our affiliation with the National Association of Residential Property Managers (NARPM) also contributes to the success of Porchlight. NARPM is an organization that works to provide education and leadership in the residential property management world. We are always learning "best practices" from other professionals around the country and bringing them back to our business so we can always be improving. We work hard to stay current with landlord-tenant laws, property maintenance issues, available resources and general business management. We love what we do and our goal is to make owning your rental property hassle free.
We want to do more for you by providing more services, more education, more quality. We are dedicated in our adherence to the Golden Rule for providing the gold standard in property management. We believe that by treating our owners and tenants in the manner we'd want and expect to be treated, we truly can provide the best property management service available.